Quality-approved line of Electric Pan Mixer, Vibro Forming Table, Fly Ash Bricks Machine, etc. ...
About Us
Morbi (Gujarat, India), settled company,
Nakum Engineering Works
, is a quality-focused
manufacturer
. A glimpse of all the hard work our company does to keep the quality of products high, is visible in adoption of stringent quality control policies with each passing year. Nakum, as a brand is well-known across the borders as an exporting company that serves simply the best in the form of
Electric Pan Mixer, High Pressure Paver Block Making Machine, Fly Ash Bricks Machine, Block Shifting Trolley
and much more. We have a sister concern with a name Nakum Mechanical Works, which we introduced years back in 2007. This business entity, similar to ours, is renowned worldwide for being the quality providers.
For availing Cement Tiles making and other machines, our business unit is an ideal choice. Reason is quality and speedy production. Low power consumption, easy installation, ergonomic design and high performance are some winning attributes of our offered machines. In this long business journey, we have successfully installed more than 1200 machines in and across Gujarat. This shows high level of our quality work and customers lasting trust. Assurance of quality, comes with each and every offered product that stands tall on quality and excellent performance. Strong business commitment, ethics, trust and loyalty are some attributes for which our company is widely praised.
Quality/ Certificates
Strong commitment to serve singularly quality products against hard-earned money helps us gain trust of a wide client-base. Growing demands of quality-marked Block Shifting Trolley, Concrete Color Mixer Drum, etc., are well met by us through quality and speed manufacturing process. Total quality management system is implemented to ensure delivery of solely quality-assured products. Everything from base materials to finished products is examined rigorously to serve simply the best.
Chequered Tiles, Paver Block Machines, Interlocking Pavers, etc., are examined on following parameters:
Design
Durability
Maintenance
Operation
Power consumption
Production capacity
Size
Strength
Texture
We work hard to ensure customers get international quality products at competitive rates. Global standard of construction equipment and machines are developed, designed and tested keeping in view customers' interests. Our team well-understands specific needs of clients. This helps in making customer-preferred offerings. We solve all product related queries and services in small time-frame. Association with great transportation companies aids in delivering products faster to near and far locations.
Our Mission
The mission of our company is to continue working with excellence, strong values and principles. We aspire to create value in the form of products, which finds major use in the Real Estate & Construction field. We aim at making customers have quality products at right prices.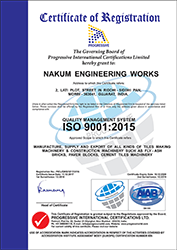 Get in touch with us